About entrepreneurship in China with co-founders of Spare Leash
Originally from Sweden, Elsa Medin relocated to Shanghai four years ago to study Chinese. She decided to stay in China and did her bachelor degree in international business. With her motto being "If I cannot find the path, I will create it!" she launched Spare Leash right after graduation. Elsa has a dog named Betsy, a schnauzer adopted in Shanghai in October 2016. She also fosters dogs.
Erin Leigh studied public relations, advertising and applied communication at Western Michigan University. She came to China after graduating from college. She has been living in Shanghai for over five years, working in PR and marketing, before co-founding Spare Leash. Erin has Oliver (labrador mix), Betty (mini schnauzer), and Max (terrier mix). They used to be foster animals, but she ended up adopting them. Erin usually fosters one more dog every month. She also rescues kittens; she bottle-feeds them and looks after them while searching for adopters.
Spare Leash is dedicated to making life easier for pets and pet owners by providing loving and trustworthy pet sitters in Shanghai. Their services are safe, reliable and cage free. The company was founded in Shanghai, in 2016. In the same year, Spare Leash was awarded by Time Out Love Shanghai for Lifestyle Service of the Year.
How Spare Leash started?
Elsa: It began in 2016 when I wanted to adopt a dog from the street in Shanghai. I was still a student, and I was going traveling for a whole month. None of my friends could take care of him. Finally, I didn't adopt this dog. However, I started to think how we can all help each other looking after pets when we travel. I had an idea, and I spent a few months thinking about Spare Leash and how I can make that happen. I had mutual friends with Erin. She was facilitating pets' adoptions in Shanghai.
Erin: One day, Elsa texted me out of the blue, saying: "I need to talk to you. Meet me for lunch". We met at one of my favorite restaurants, Kommune. Elsa told me about her idea. It was also a part of her university project.
Elsa: I had a class called Entrepreneurship, and that's how I started to look at it from a business perspective. My initial idea was a pet hotel, but I wasn't 100% happy with that and kept on brainstorming. I went to Australia for a month, and because I didn't adopt the dog, I was thinking about it during the whole trip. I was doing my research, writing down my ideas and a business plan. When I came back, I met Erin.
Erin: Elsa nearly had a business plan and the avenue laid out, as well as the name and the logo. Right away I said: YES. The very next day we were in my living room, my three dogs were running around, and we were starting the business. It was around early April. I had just quit my job in PR.
Elsa: I was in the last semester of my Bachelor's degree majoring in business. I had in my final exams. My final thesis was about the WeChat business, so I was going to many business events and learning from hands-on entrepreneurs.
Erin: We first built a website, which took a month. Then we had a launch party – a charity event co-organized with Best Friends China.
Elsa: We got our first client during this event. The first interviews with sitters happened in Erin's apartment.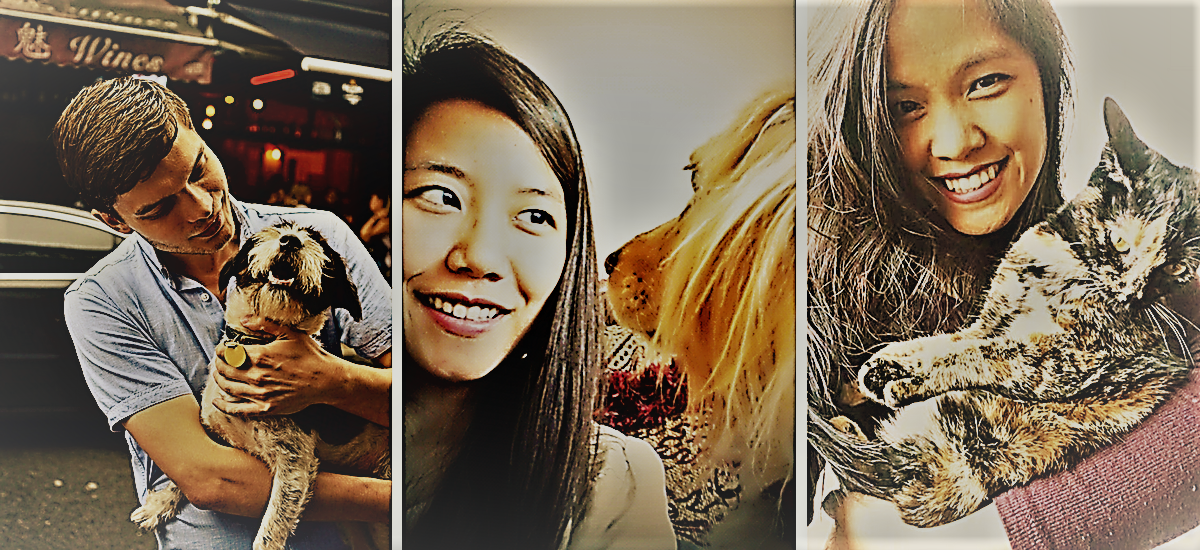 How do you recruit your sitters?
Erin: We don't want people who do it only for money. The main driving factor should be their genuine passion for animals. You recognize straight away the right person: they have so many stories to tell about their cats and dogs. They say all the time: "my dog" or "my cat" and lay out all the pictures. We meet every candidate in person, and if they get a job, they go through the training.
Elsa: Some expats are in Shanghai for a short period, so they didn't relocate with their pets. They work for us to be closer to animals and earn some extra money. These are usually good candidates. We put the job advert in Smart Shanghai and spread the word, searching for animal lovers. Everyone who wants to become our sitter needs to fill out the application first. We also ask for their photos with pets.
Erin: If someone cannot provide a picture it's a huge warning flag.
Elsa: One candidate said that he had a lot of experience with cats and dogs, but he could only provide a picture with a cow. That was a no!
Tell us about everyday life at Spare Leash.
Elsa: We work like a dating app; getting pets' owners agreements and pairing them up with the right sitter. We sometimes use the co-working office at WeWork, or we work at Baker and Spice café at Anfu Lu where we meet many people with their dogs. We chat with them and sometimes they even become our clients. We organize many events. For example, we had a charity Thanksgiving where people could drop the stuff like beddings or pet food that went to two shelters in Shanghai. One shelter is fully outside and they have over hundred dogs. It was perfect timing with the winter coming up and shelters in need of blankets. We also had a happy hour. It was a cold day, but many people came. Our next event will be a training for dog owners and sitters. We want our clients and sitters to interact. Now we have a team of hundred seventy sitters which is a tremendous growth. Last summer we only had sixty of them.
When you first started, you had fifteen sitters and three clients and grew to hundred seventy sitters and three hundred customers in less than a year. You were also awarded by Time Out Love Shanghai for Lifestyle Service of the Year. What is the secret of your success?  
Elsa: Spare Leash sitters ensure individual care as well as daily pictures and updates.
Erin: Instead of putting their animal into a pet hotel, our clients prefer their pets looked after in the house, by someone who is a true animal lover. The main problem of expats pets' owners in Shanghai is finding someone to care for their animals while they travel. It's also a key barrier for expats who want to adopt an animal in Shanghai. We fixed it.
Elsa: Spare Leash enabled me to adopt my dog. Now I can travel knowing that someone reliable will look after my dog while I'm away. The "no cage" aspect is paramount to us. In Sweden, we don't have pet shops and pet hotels with caged animals at all. Here in China, shops with caged animals are everywhere.
I looked at the prices in Shanghai, and in many cases, it's less expensive to hire Spare Leash than to put the pet into a pet hotel. Also, you are a real lifesaver for cat owners who love to travel. For most cats, it's much less stressful to be looked after at their house.
Erin: Our sitters also give their full attention to pets. It's not unusual that they cry when the owner is back and they must part with an animal. Our sitter's boyfriend just called me and said: "Anita cannot work for Spare Leash anymore." I asked: "What did we do to her?" He said: "The owner picked the dog two days ago and Anita is still crying." This is how our sitters get attached to the dogs. They treat these animals as if they were their own. We want clients to be worry- free because their dog will be preoccupied with a sitter instead of staring at the window, waiting for the owner to come back.
Elsa: I once boarded a dog who used to sleep in their owner's bed. Therefore, at my house, he was also allowed to sleep on the pillow next to me. That's what he does at home, so I didn't say no. He loved it and got attached to me. The family was super happy, too. Photos are also very important to us. When I leave my dog with someone else, I want to receive at least three pictures a day, and our clients can expect the same.
Aside from Spare Leash, you both rescue animals as well.
Erin: It started a long time ago before college. I was rescuing, adopting and rehoming animals. Coming to Shanghai from Michigan I saw way more stray animals. I felt something had to be done about it, so I joined a couple of groups that rescued animals in Shanghai. With the power of WeChat, we rescue animals, make them safe, and find them a comfortable home.
Elsa: I adopted my dog, Betsy, from Rose. I was going to foster, but I ended up adopting her. Now I'm getting a new foster, Luna, this week.
Erin: It's 24/7. You surround yourself with groups of people who post updates about animals in need on WeChat and whoever is close will go and rescue the animal. There is a bunch of groups: Best Friends China, JAR, People for Pets, and Rose's Rescue. Right now, we are working closely with Rose's Rescue. She dedicates herself to saving animals. We help donate and fundraise for the vet bills.
How do you fundraise to help animals in need?  
Erin: We organize events. In March, we did a Pet Talk and Ride for Rescues event and raised over 2500RMB for Rose's Rescue. We have another one coming up!
Elsa: The Shanghai pet community is always willing to help animals in need so our events are super fun and it's a great way to give back.
Which social media do you use?
Erin: WeChat. It's right there in front of you; you can request the phone number, the resume of potential adopter and ask basic questions. Our friend went to Hangzhou where he found a dog that was almost dying and asked us what to do. He ended up keeping the dog and recently sent us "before" and "after" pictures- he loves his dog. It's just one of the many stories. We help to facilitate adoptions for dogs but also a lot of cats.
Erin: We also educate people: "If you find a stray animal that needs helps this is what to do. First, you take them to the vet. Taking a picture and walking away is not helpful."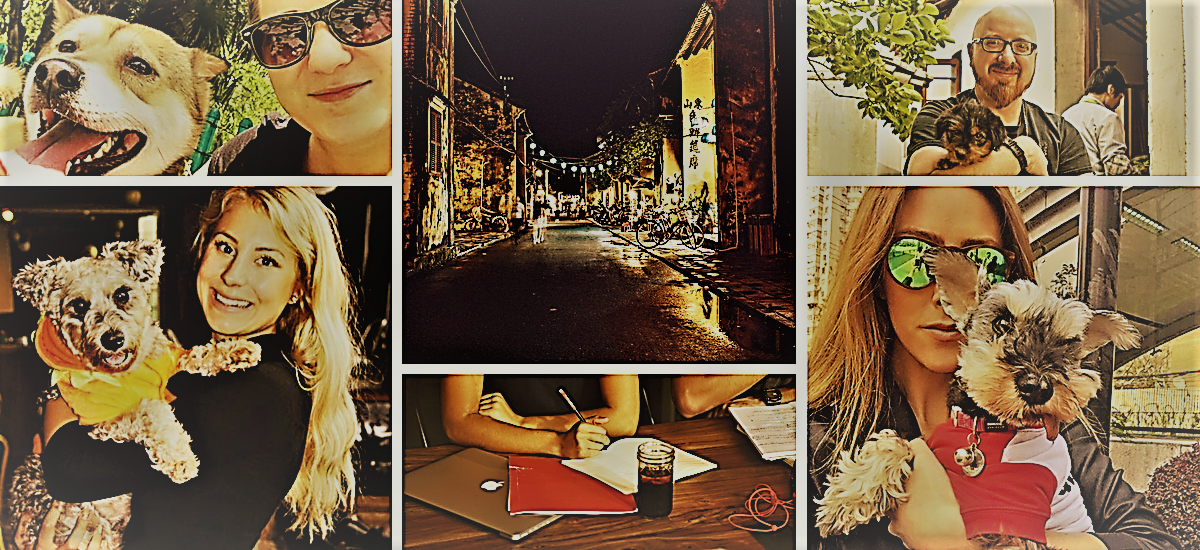 I'm so thrilled to hear all these stories. Let me ask you the last question, what's your advice for other expats wanting to start a business?
Elsa: It takes good planning. My tutor says "put the idea in the fridge". Let it chill a little bit, think about it, open your fridge sometimes and look at it. In the meantime, surround yourself with the right people, go for meetings about start-ups. Find someone who has the skills that you don't have.
Erin: Some people do that for three years while working full time. I can only say: DO IT. When Elsa came with her idea, I said: "when do we start?" Don't just have the idea, create it.
Interested in learning more about Spare Leash? Contact them on www.spareleash.com
Pictures: Spare Leash and Canva
Comments are closed