Tony Vincente is a social media manager @ Microsoft, but also he is an online personality known as the Fashionable Foodie and a Fashion Designer @ Vida & Co. Tony is here to share a few secrets of the ever-changing social media space. Shall we start?
Tony, I am sure you know that one of the biggest struggles of every social media manager is to prove their impact on the company's ROI. Can you give us an example of a campaign that is beautifully linked to return on investment?
A great example of showing the ROI of a social media campaign comes from one of Microsoft's partners Cisco who saved $100K. While most companies spend big bucks for product launches on things like flying execs from all over the world they did the entire thing online. Here is the link to the case study. I encourage all in the social media industry to check it out!
Thanks for the link Tony. Also, can you share a proven method of retaining follower base and the way of measuring the retention rate?
Your followers will always ebb and flow. The trick to retaining them is to ask them what THEY find most interesting on your social channels. You can get immediate answers by conducting bi-weekly polls. This will provide the guidance you need to create the right content followers will keep coming back for! The way I measure retention is through weekly reporting. A part of these reports shows how many followers we gain/loss on each channel. To get this data you can use social media tools such as Sprinklr or the analytics each platform has to offer.
What is the biggest challenge in a social media manager's job and the way to overcome it?
The biggest challenge I face is keeping up with the number of new social platforms introduced every day! Actually, tech advancements are exciting; the challenge is determining which are necessary to your organization's success. The way to overcome this challenge is to really know what your audience demographics look like and to start off with the main social platforms you know have the most users like Facebook, LinkedIn and Twitter. Utilize the analytics each of these platforms offers to build audience profiles and based on what you find expand your platforms accordingly.
They say that failures make us stronger. Can you give us an example of one of your failures, experienced during your career in social media. What did you learn from it?
Sorry, I have no examples, I'm the bomb! Just joking, of course, we all fail at some point it's coming up with quick solutions that make us truly successful. Early in my career, I actually had a hard time learning about the voice of the company. I was a budding social media personality in my own right and thought that my voice was universal… Not the case! My failure was that I didn't learn enough about how the company spoke to its audience members before taking the job. I mastered it thanks to a supportive management team and a determination to get it right. Thankfully, I became great at speaking for a number of Fortune 500 companies including the one I work for now Microsoft!
My takeaway for social media managers (and community managers) would be to visit the social platforms of the companies they want to work for and get to know how they speak and what message they are looking to get across. Being the "voice" of an organization is a huge responsibility, what you say can affect how people view your company for better or worse.
How do you define the success of a non-quantitative social media activity?
It's all about audience reaction. Knowing what I post brings joy to the audience for me is a true success even if it cannot be quantified by measurable standards. I like to create fun graphics and make jokes with audience members though these actions don't produce sales or even tons of likes/shares. It's the comments back of "you made my day" or "thank you" that makes what I do extra special.
Any golden tip on achieving a consistent analytical approach?
A consistent analytical approach always begins with a question. Was our promotion successful? Did today's post resonate with the audience? Therefore, my golden tip is to be ok asking "why". You have to be open to asking and thinking about how things occur. It's the basis behind all analytics. So don't be afraid to ask questions, they spark a deeper conversation that eventually leads to answers.
What is the one social media metric you would die to measure, but no one out there came up with a solution yet?
I really do not have an answer for this one. Almost everything can be measured on social these days. Once you master the tools available and really understand the importance of data analytics you can find any answer you're looking for.
Are you using any social media management tools you cannot live without?
Oh yeah! Sprinklr is essential for what I do. I can set up listening queues, reports and of course engage with audiences on this tool. It's easy to use and new features (like little bird-which can be used for influencer identification) are constantly added. If you aren't using it I suggest you give it a try.
Can you share with us your process of coming up with a social media strategy? What is the most difficult phase of a strategy?
There are a number of steps to building a solid social media strategy my top three tips:
Create obtainable goals:

Outline what you looking to do. Are looking to increase traffic, mentions, etc. A strong social media plan starts with know what the goals are and once established the fun part of how they can be achieved begins!
Find out who you want to be your audience:

Your

message needs to resonate with audiences for it to be successful. Identify where your industries audience behaviors, demographics, and interests lie. It is a lot of research but obviously worth it! Quick tip: You can find some of these answers by looking at social platforms in your industry and seeing who follows them and what content types they interact with the most.

Identify what channels will work best

: There are a number of social platforms to choose from but what they offer may not fit with you organizations goals of reaching out to identified audiences. Learn which platforms are essential for business and will have the demographic you are looking to capitalize on.
 Step 3 is the most difficult phase of a strategy because each platforms functionalities change often so my suggestion is to be open and fluid to change. Do not be afraid to add other platforms as long as you have the bandwidth in place to support them properly.
Your biggest social media inspiration and social media guru everyone should learn from is…
I actually have two. CEO of Thrive Arianna Huffington (ariannahuff) and growing social star and host of the MPN Podcast Rachel Braunstein (@rkbraunstein). Both of these powerful women share great tips you need to know to propel your career and enrich your daily life. I love learning and both Arianna and Rachel provide guidance that is relatable to everyone. If you aren't following them I strongly encourage that you do!
Thanks for that one. I read the book of Arianna Huffington, but I definitely need to check out the podcasts of Rachel Braunstein. Let's talk about social media QA. Testing and innovation are an important part of every social manager's job. Can you share your hit and miss of 2017?
My HIT of 2017 is Brand24 a FREE platform (with a paid component depending on your needs) allows you to perform deep analysis on a number of social media functions. I utilize it for event hashtag tracking. It is a must try. My MISS of 2017 would be underestimating the power of custom graphics. We are a visual society and people really respond to colorful and slightly graphics on social. Custom graphics are the main part of my social planning and essential to the continuous growth of the platforms I am responsible for.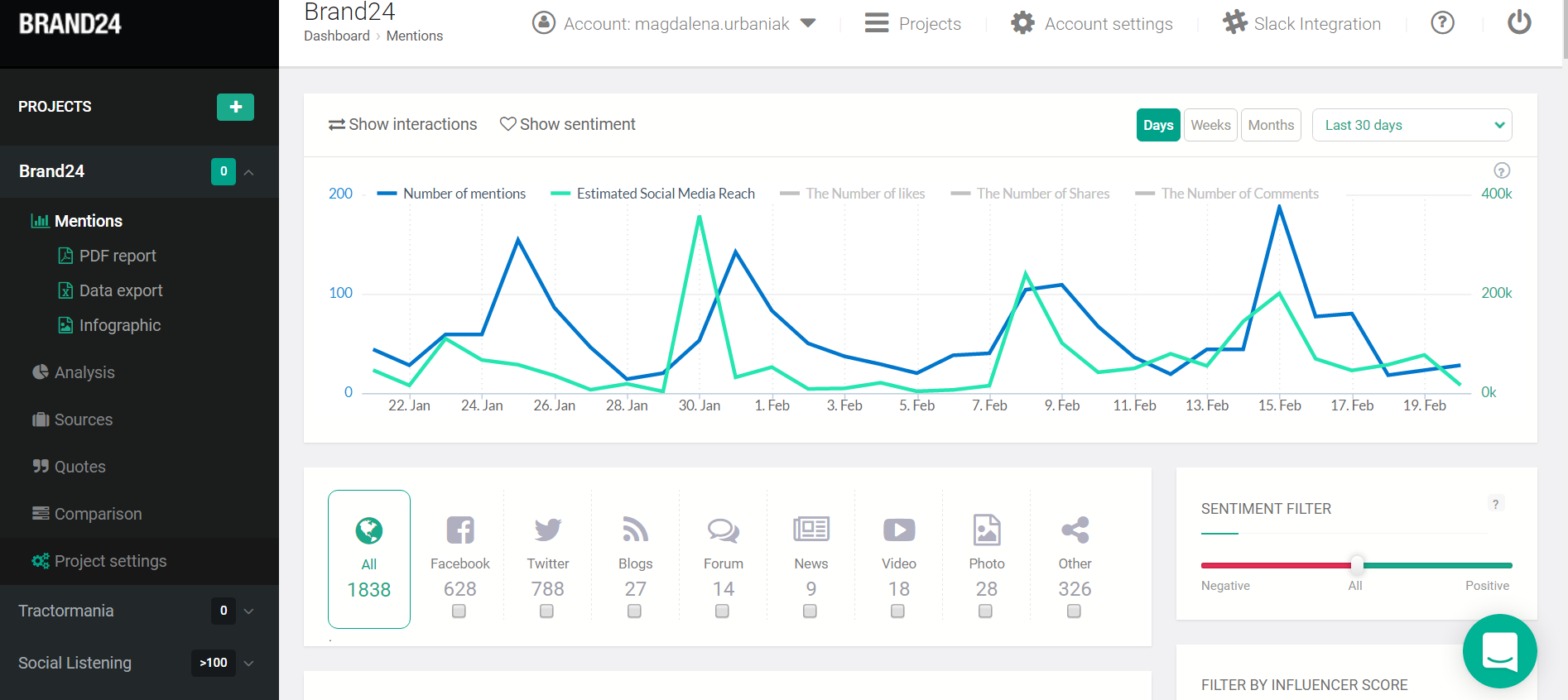 What is the newest social media trend you would love to explore more?
Live video is taking off. All of the top social media platforms are providing avenues for users to live stream more than ever. It's immediate and in many ways a more impactful way to get messages across. I have LOTS of video coming up soon for both Microsoft and for my personal brand so stay tuned!
What is your process and mentality around taking ideas, prioritizing & testing them efficiently, validating, and then feeding the learning back into the process?
I am an A/B tester. Everything that comes my way I want to know how it works, will it work and how it will be implemented. I am open to ideas but before they are presented to the field I want to make sure it's something that they want and will enjoy. Do not be afraid to do beta testing with select audiences. The information collection is invaluable for success.
One DO and one DON'T for creating a meaningful growth in social media would be….?
Do: Like as many people on social platforms as you can.
Don't: Over follow! Follow people you know will follow you back and help you promote your posts. As your social media platforms grow then you can start following verified accounts that may follow back in turn.
And the last but not least: what would be your 2017 social media tip?
My 2017 social media tip: Identify your TOP INFLUENCERS and utilize them to the fullest. Influencers are essential messengers you need to get your words in front of audiences you may not have direct access to. Engage with them as much as you can (once they are identified) and do not hesitate to reach out to them when you need specific posts amplified.
Thank you for the interview!