Interview with a vegan lifestyle coach and blogger, Sunny Gandara. #AddingValue series.
A multi-passionate entrepreneur, Sunny Gandara is a life design coach and a certified health coach through the Institute for Integrative Nutrition. Sunny, a native of Norway, is a professionally trained cook and holds a certificate in Plant-Based Nutrition from eCornell as well as a professional Culinary Certificate from the Institute of Culinary Education in NYC. She is a Certified Personal Trainer and Fitness Nutrition Specialist through NASM, a Certified Wine Educator and Specialist of Spirits through the Society of Wine Educators, and a holder of the DWS Diploma through the Wine and Spirits Education Trust (WSET).
A huge part of her work is vegan lifestyle coaching and blogging. She talks with Coachify about her fascinating journey of going vegan and helping others to do so.
Sunny, how did you become a vegan lifestyle coach and blogger?
To me, becoming a vegan lifestyle coach and blogger was the result of having worked across three other industries first; I started out in the music industry where I worked as an international marketing and publicity director and traveled the world with celebrities, to becoming a professionally trained chef and later on a wine educator and specialist. I had my own catering company, Fork and Glass for five years, and while I loved both food and wine, I still felt that some aspects of my interests, skill set and experience were not utilized to the fullest.
Then in between, I decided to compete in amateur body building shows for fun as a way to get my body back after several years of eating too much and moving too little, I was inspired to get my personal trainer certificate. A lot of women would contact me wanting me to coach them, but also on nutrition. I didn't feel qualified to handle the nutrition part, so I was inspired to seek out nutrition schools and landed upon the Institute for Integrative Nutrition. I got certified as a health coach through them, and just before I joined I had decided to go vegan. I am first and foremost vegan for the animals, but I was thrilled to learn about all the health benefits of this lifestyle too. I found that a lot of people had healed themselves from serious health conditions through eating a whole food, plant based eating and was what inspired a lot of people seeking out this lifestyle. As a professionally trained chef, I started veganizing a lot of my traditionally animal based recipes, and gained a pretty big following, and from there on had the idea of helping others discover this wonderful way of living. A vegan lifestyle is not just limited to your diet and eating plant foods, it's also living a cruelty free, compassionate and conscious life.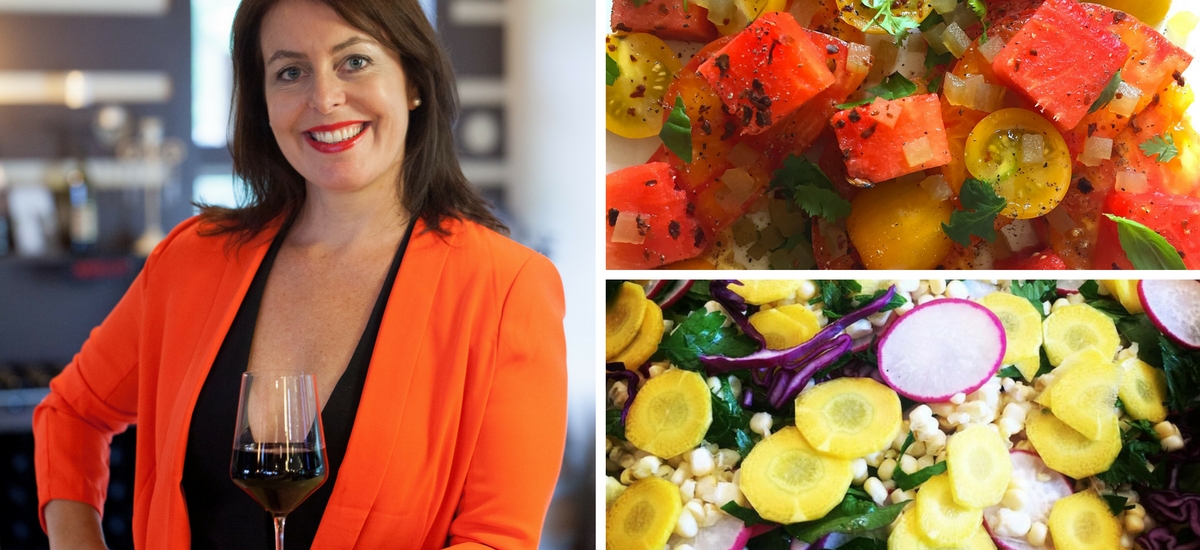 What was the path leading you to what you do know?
 What I do know is that a vegan lifestyle leads to a higher consciousness. Once I started investigating whether or not we need meat to survive, how much protein we actually need, what our body needs to thrive, and how animals were treated in factory farms, I was shocked to find that what I had believed for so long was not true. Further down the line I started doing my own research on other things I had believe to be true in other areas of my life, and started to realize why I had always felt a bit "off" in following the norm of getting a "job" and making good money so I could retire and be "safe". It didn't feel good to trade my time for money, I needed to feel fulfilled, like I was of service to someone else by fully using my skills, talents and interests… I now work with women who feel the same way I did a few years back… perhaps that they have lost themselves a bit in just going through the motions of life, not having properly questioned why they do what they do, but it's what society somewhat "expects" of them (or so they believe), and consequently they have let a big part of their personality and passion go. I help them revive this part of themselves and their life into living in a way that lights them up and gets them excited. This is why I was put here on earth.
Can you describe your typical day at work?
I work from home, and I typically get up around 5:30-6am. I spend a few minutes meditating, and about an hour reading (typically personal development books) and/or journaling. Then I will have water or coffee, and either go to gym or run /go for a walk with my two dogs, Scooby and Tofu. Time with my dogs in the morning is super important, as it sets my mood and stage for the day – we can learn so much from dogs, they are always so happy and full of life, and thankful and excited about every little thing! I always prioritize having a healthy, solid breakfast – either tofu scramble with veggies and spices, or some version of oatmeal with berries.
I believe my morning routine is crucial to set the stage for my day, to put me in the positive mindset so I can best serve my clients. I set up my week on Monday, schedule calls, meetings, etc. and plan out my days. I typically coach clients all day Tuesday/Wednesday/Thursday and Friday is content creation day. I have two blogs – one for my life coaching business which focuses on healthy, plant based living, and the other is a Norwegian food blog called Arctic Grub. I started it a few years back because I was feeling homesick living so far away from my family, and also had begun to get really curious about the history behind our food traditions. I also veganized my blog back in 2013 after I turned vegan, which was quite the job, considering 90% of Norwegian food is based on some type of animal foods, but so far so good!
I don't like working past 6pm, and very little on the weekend, and I try to stick to the same schedule as much as possible. The evening is reserved for friends and family, watching movies, reading a good book or going out for dinner and to the movies.
Any advices to international career women and men?
 I would like to encourage you to listen to your "inner compass", your gut instinct, or intuition, whatever you like to call it, about what it is you truly would like to do with your life. So many of us have been tempted to follow social pressure and we end up in careers and lives we feel out of sync with because we do something we think are expected of us versus finding the courage to live in alignment with our true values. We end up feeling frustrated, bored or unfulfilled – life can be so much better than that!
Don't be afraid to make untraditional choices if that is what your heart is telling you to do – making money is easy, and can be done in a variety of ways – the most important thing is that you find that thing that makes you fell "ah, THAT is why I was put here on earth!". You know what it is, if you just listen to your heart.
What do you love the most about your work?
 That I can inspire and give hope to women out there that they have a unique talent nobody else has, that there is something more to life, that they are one of a kind and were put here on this earth for a very special reason.
I also love that I can show people that animals are not needed for food, beauty products, clothing or entertainment – there are so many amazing alternatives out there today that are cruelty free and a great example of a compassionate lifestyle, that people aren't even aware of because it has become such a norm to use animals for everything. I feel like part of the reason I was born is to help animals in any way I can, most importantly to encourage people to make more conscious choices in the way they eat, dress, act and live.
Can you tell us more about your dogs?
 Scooby is a 2 years old Great Dane whom I rescued a few months ago. He was chained to a fence his whole life, was never fed or allowed to go inside. It gives me so much pleasure to know that he will have the best life ever now riddled with cuddles, gourmet food, play and a nice warm bed to sleep in whenever he wants! Just a few weeks ago he got a little sister, Tofu – she's a 10-week old Cane Corso puppy who has the biggest personality I've ever met! She is fearless and she bosses her big brother around – a tiny pup basically walking her super tall Great Dane brother on a leash. She has tons of energy and is a super entertaining, smart little girl.
Any delicious, simple vegan dish recipe you would like to share with us?
Sure! I will share a recipe for my fall inspired curry from one of my newsletters. This is a super hearty, flavorful and incredibly simple dish to make as it really just requires one pot (unless you count the roasting of the vegetables), and you can make a big pot of it and use for several meals, or as I like to call it "cook once, eat twice" (or three times) making it a time saving effort as well.
The link to the newsletter and recipe is listed HERE.
Is vegan lifestyle for everyone?
It's for everyone who wants to limit the harm they do to their bodies, to other living beings (animals) and to the environment. It's for people who are consciously aware that they themselves need to be the change, it's for those that are not happy following the status quo just because everyone else does it, but want to find a way to live that is in alignment with their true values. Everyone can function on a whole food, plant based living – humans are in fact not carnivores, but herbivores.
I specifically started my coaching business to spread the word that a vegan lifestyle is also for "foodies", for those who aren't into counting calories or looking at food as "good" or "bad", but who just want to make amazing meals that any meat loving person would be impressed with. A whole food, plant based diet can be decadent, while at the same time healthy which is why I love this lifestyle so much!!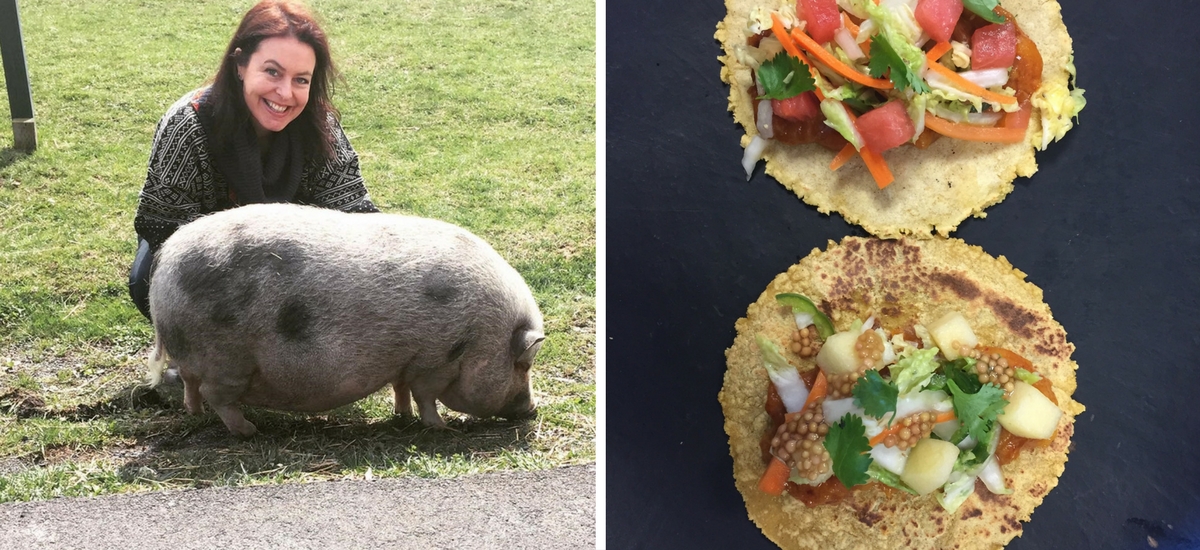 Interested to learn more about Sunny? You can contact her HERE .
Comments are closed