Employer Branding Around the World with Leni Rokosova.
Originally from Czech Republic, Leni sees herself as a global citizen. Her background is in linguistics and international relations which led her to explore the world on the path to matching the best talent with amazing career opportunities. She has lived and worked in seven different countries and enjoys getting to know a new culture and immerse into it. She is currently working as a Talent Acquisition Manager for Meltwater in their Sydney office, responsible for full cycle hiring across all their departments in Australia and New Zealand.
Leni, congratulations for Meltwater being awarded the Top 7 Best Place to Work in Australia in 2017 and Top 12 Best Place to Work in Asia in 2018, as well as being one of 2016, 2017 & 2018 Great Place to Work Awards Winners in Canada. Can you share some secretes of your company success: what are the best practices of talent attraction and retention at Meltwater?
What attracted me to Meltwater was the fact that the company has managed to establish itself as a global leader in media monitoring with 60+ offices in less than 17 years! However, despite the success and growth we are experiencing, candidates I approach on LinkedIn typically have not heard about us, but when they do their research, they're always surprised that they have not come across us yet!
Our target market is Gen Y (also known as Millennials), it is well reported that personal growth and career development is the key factor in choosing a suitable employer for this generation. As such Meltwater is extremely conscious of building a culture that facilitates that experience, we challenge our employees from day one to be the best version of themselves. We work in a fast-paced environment, things change quickly so our new recruits need to be agile and learn quickly.
Research also shows Gen Y wants to be connected to the work they're doing and for us, that means ensuring there is a sense of shared purpose. There is plenty of time spent with line managers and even though these meetings may sometimes seem like simple catch ups, the regularity achieves a greater purpose. A constant two-way feedback ensures people feel they have a seat at the table, they are given a platform to speak up and make an impact on the business and its culture.
Last but not least, we promote based on merits, not tenure. Drive and determination and your ability to realize your potential quickly are what determines the speed at which your progress. You can easily check this by a simple search of our employees on LinkedIn.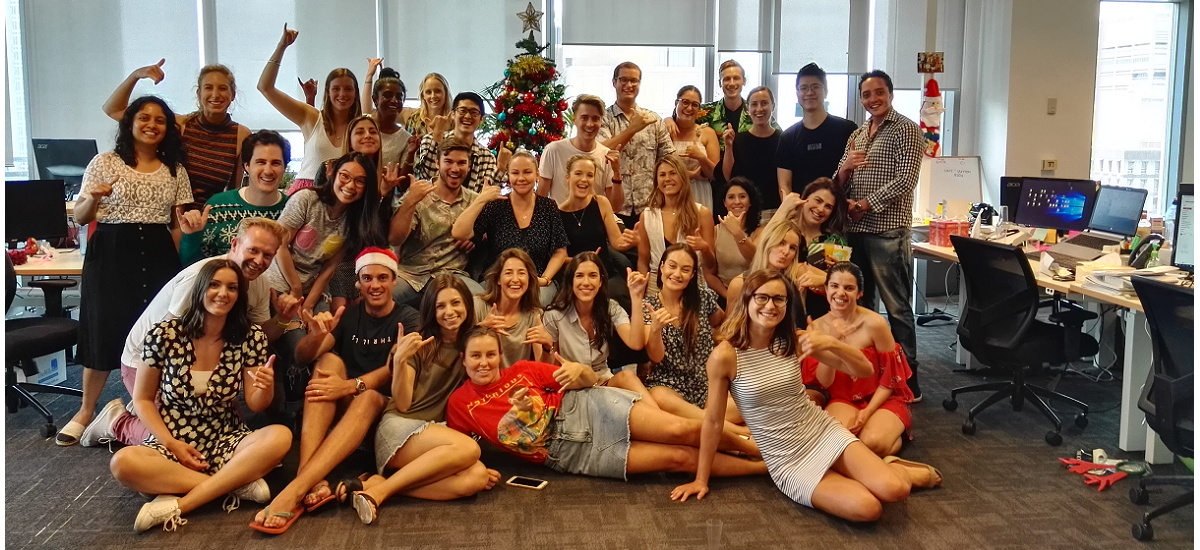 Is building a strong talent brand a "must have" or "nice to have" for modern employers?
Definitely a "must have". Especially for Gen Y, they want to be coming to a place where they don't only do what they enjoy doing but also a place where they feel welcome and are surrounded by like-minded individuals. Showing them what our culture is about, what our workplace looks like (maybe even giving them a sneak peek into our office playlists), how we celebrate success and what we do together outside of our workplace, is a no-brainer. This way they will already anticipate if this is an environment they would love to be part of or not.
What has been the process of building a strong talent brand at Meltwater?
We don't have a designated team or employees for building our talent brand. I believe this should be a common effort of recruitment, marketing and HR, but, ultimately, all employees are responsible for this. Of course, all of us have a slightly different goal but at the end of the day, we all want to increase our brand awareness. I drive different initiatives, such as encouraging our employees to write blog posts, partner with top universities and students' societies and provide training to all newbies (regardless of what team they join) on how to manage/promote our brand on LinkedIn. I already started this in my last job and it worked really well so took it over with me to Meltwater. It only takes about 15 minutes (if they're in Sydney, its F2F, if in any other office, it's via a video Skype call) but you would be surprised how little people know about different functions on LinkedIn and how to use them to your advantage. I always start the training with showing them some numbers on how many people interact with our brand on daily basis which always leads them to understand why this training is so important.
What is your social media strategy when it comes to employer branding?
I'm a huge advocate of LinkedIn and that's where I spend lots of my time during the day. From my experience, the most quality talent is right there and it's easy to tap into. On the other hand, it is true that the Gen Y don't necessarily have a LinkedIn profile (yet!) and so it is important to build a strong strategy on their favourite social channels, such as Instagram and Snapchat – this is work in progress for us right now!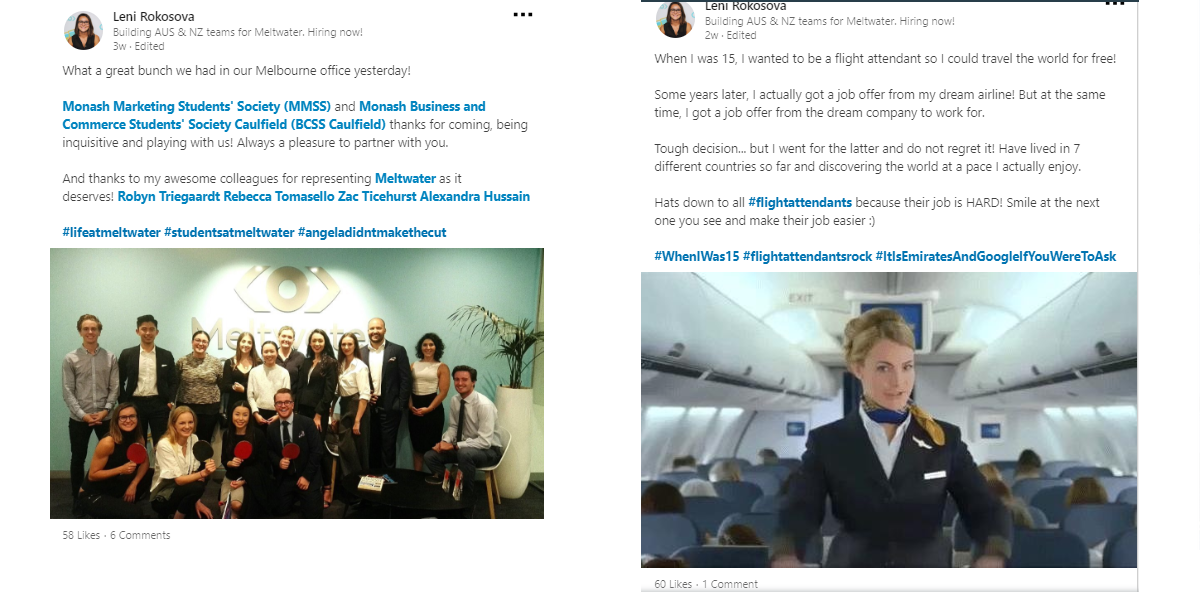 How do you use content marketing and storytelling methods on LinkedIn to generate stronger candidate pipelines?
As mentioned before, I love LinkedIn and consider content marketing as a great tool for raising brand awareness. I always make sure my posts have a purpose and most importantly, have a personal touch. Sharing only jobs, I'm currently hiring for wouldn't make the cut! I divide my posts in 25% about our office life/culture, 25% about company updates, 25% about job posts (always accompanied by the right culture pic!) and 25% about my personal/professional interests. Sometimes it's hard to keep the office life pictures to only 25% because there's always something happening (ranging from a simple celebration of someone's birthday – yes, everyone loves a good piece of cake! – through celebrating a new deal that just came in, to those crazy closing days when we always have a theme and dress up).
How does Meltwater empower their employees to tell their company story?
With the high retention we have, I feel like we don't even need to empower our employees to tell the story (esp. off line)! We've had great examples when my colleagues randomly met people in a shop, bar or a taxi, started a conversation and suddenly, I had a referral, or we had a new client! It's great when you are surrounded by people who are passionate about the company they work for!
What is the role of the leadership team in creating a powerful talent brand of Meltwater?
Our leadership team is active mainly on LinkedIn, giving advice and tips on how to better understand the billions of conversations happening online and how PR and Marketing Managers can use the #OutsideInsight (as we call it) to make their life easier. Meltwater started investing in AI already in 2013 and has heavily increased that in the past 18 months when we acquired 7 start ups (mainly based around AI). #OutsideInsight (which is a part of our software) leverages AI to discover valuable insights from external data, helping business executives make better, more forward-looking decisions.
We recently introduced a developed "Give back" program that enables our employees to take work days off to contribute to causes they care deeply about. My colleague Laura Rowland (Director of Support APAC, now based in our Melbourne office but soon to relocate to our Shanghai office) was the first one to take a full advantage of this new initiative and spent 2 days with the Mirabel Foundation which is the only organisation in Australia specifically addressing the needs of children who have been orphaned or abandoned due to parental drug use.
What are your company values and how (when and where?) do you communicate them?
Our values are at the core of our culture and can be summed up by the acronym MER, which means "more" in Norwegian (our founder Jorn Lyseggen comes from Norway). The values are:
Moro = fun. We believe that to become successful as a whole, we should all enjoy ourselves. That's why we promote a fun, collaborative working environment.
Enere = number 1. At Meltwater, average isn't good enough. Our goal is to build a groundbreaking company supported by a thriving culture in which our people aspire to exceed their personal expectations.
Respekt = respect. We believe it matters how a company or an individual becomes number one. Striving to be the best doesn't mean sharp elbows: we should all treat our colleagues and customers with respect and humility.
These values have been with us from Day 1 in 2001 and are really a true heart of the way how we operate. We begin educating future employees about our values during our interview process and we communicate them very frequently; they guide us through everything we do, from how we prioritize our objectives and make decisions to how we clarify expectations and measure our success.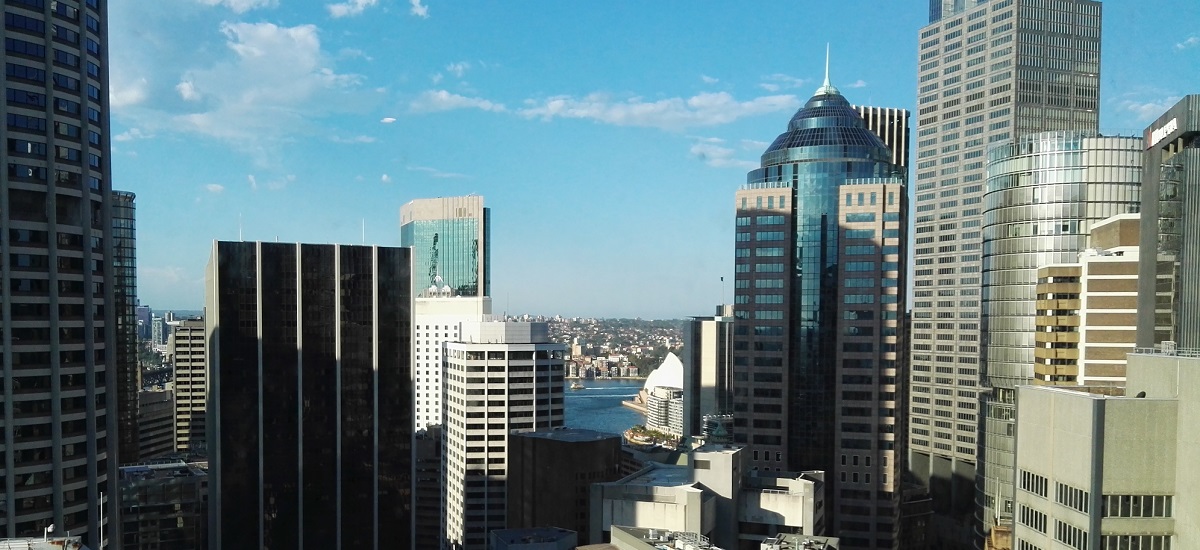 There are a couple of things we do differently. We only promote from within and based on merits, not tenure. All managerial roles are filled internally which gives lots of opportunities for our own employees. Candidates typically realize this when they come here and are interviewed by other people who are also Gen Y. It proves these people have been promoted quickly, based on their experience here.
We foster an environment which promotes socializing. We have monthly social events (including a dress code which is usually topical depending on what's happening around us, such as tennis dress code for the Australian Open, Chinese dress code for Chinese New Year but we also had random ones such as rock star dress code or Italian one!) and every two years we all go to what we call a "Kick Off" – three – four days company conference which is always held at a different location and everyone who's been with us for over a year gets to go. I was lucky enough that when I joined last year in January, there was a Kick Off happening in March and I also went to Thailand! It was fantastic to meet Jorn, our founder, my colleagues from all over the world and understand where we are going as a company (I do believe this was crucial for the success in my role as it gave me even more insightful exposure to our values and what they actually mean). I cannot wait for the next one!
How you measure your success? What is (or should be) the most important metric for a great recruiter/ employer branding expert?
It may sound like a cliché, but I'm driven by the success of my hires. When I see people, who joined us only few months ago closing big deals and really enjoying their work and our culture, that's what makes me get out of bed every morning and keep doing what I'm doing.
I don't think you can't pick up the most important metric for a great recruiter, especially when talking about in-house recruitment. It should be a combination of a number of things, such as the amount and quality of hires, providing positive and effective recruitment experience (regardless of the outcome) and increasing the brand awareness.
Thank you for the interview!
Thank you!
***
Picture Credit: Leni Rokosova, Meltwater
Comments are closed