7 Tips about Branding on WeChat for Beginners from Olivia Plotnick.
Olivia resides in Shanghai, China and works as the marketing manager for Brandigo, a global marketing and communications agency. She manages the company social media accounts, including WeChat, as well as the blog, content offers and promotion. She also manages the marketing and communications for Shanghai based free fitness community, FitFam, a volunteer-led organization with over 3,000 active members, and currently over 6,000 WeChat followers.
Olivia is recognized for her knowledge of marketing and branding in China; she was featured in Forbes and grew a WeChat account from 2,000 to 5,500 followers in just 6 months.
Today she shares with Coachify her top seven tips on using WeChat as a branding tool.
1. WeChat is a chatting app: engage, tell a story.
Branding in China is becoming more popular. In China or in Hong Kong when you are outside there are bright neons and signs everywhere. However, people are not paying attention to that, they don't read advertisements on the windows anymore – everyone is looking at their phone. Especially young, Chinese consumers nowadays want to disconnect from all the noise of advertisement.
We are getting so focused on telling our own stories and getting involved in other people stories – just look at your WeChat moments. Why would brands be not doing it? Why would brand not tell their stories to better connect with people? The key question is: how can brands better connect with their customers?
Storytelling and personalization are the answers. WeChat is a chatting app, people are expecting it to be interactive, and personalized, that's what they crave from this platform. They expect to receive content that they can relate to and connect with on a personal level. Elijah Whaley, CMO at PARKLU makes a great point in this article about the digital consumer in China – your WeChat, and other mobile channels for that matter, should be fun, engaging and useful.
2. Make it about people.
Data from Tencent shows that people prefer to see and share content about their lives and those close to them. Reach out to your community, your coworkers, your customers and get them involved.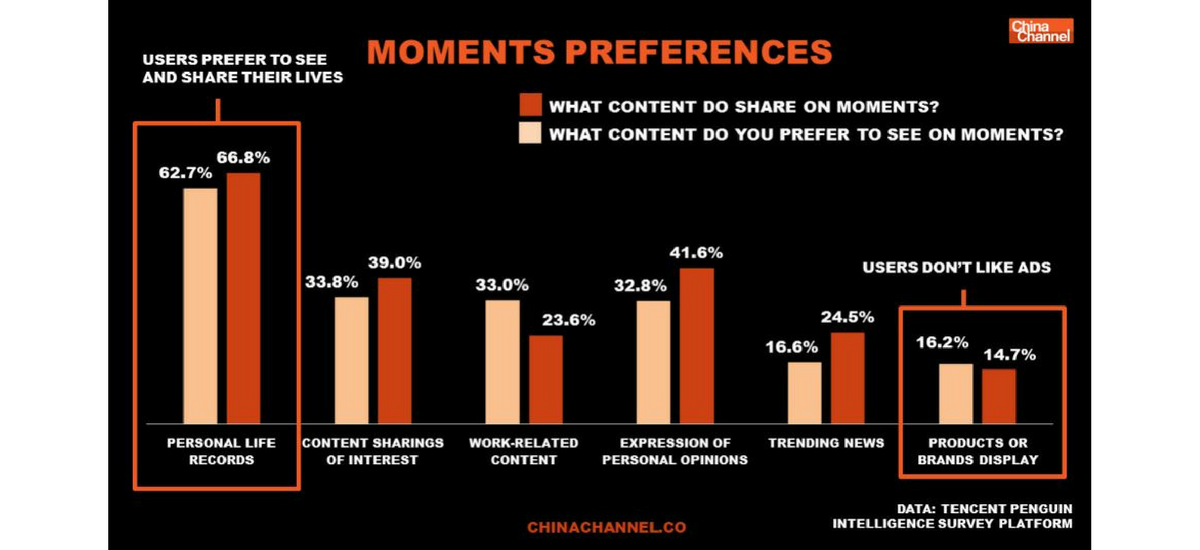 One of the most popular articles posted from the FitFam account was an article announcing an event in partnership with a women's active wear brand. The article highlighted many of the reasons why people find the community so special, and what the core values mean to many of the young women in the community. It reached people on a personal, and emotional level, and ended with a call to action. It also included user-generated content in the form of photos that were taken of actual members of the community.
Other well-performing content comes from the FitFam partnership with Creative Humans writer Eduoard Bellin who interviews members of the FitFam community in-depth. These stories provide a window into the life of a friend, a workout partner – someone that people feel connected to and have an interest in learning about because he/she is part of their daily life.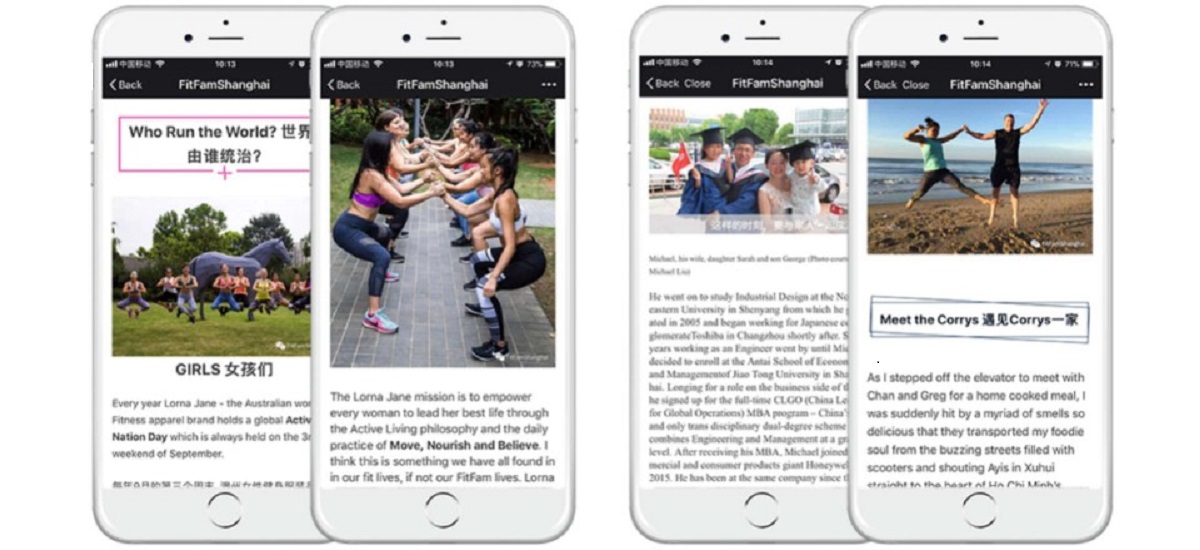 3. KOLs are a must.
This is especially true for B2C brands. KOLs or influencers are a key strategy for many brands. They've amassed their followers through blogging, thought-leadership, as well as leveraging their celebrity status. KOLs are usually well-trusted and have a much more personal relationship with their fans. As this Boston Consulting Group article states; In China, shopping is about more than just the transaction. It's about entertainment, discovery, and social engagement with friends, celebrities, and internet influencers. 
Chinese consumers trust influencers, and are not as put-off by sponsored content as much as their Western counterparts. In fact, many KOLs have done such a good job building up their fan base and making a niche for themselves that many have their own online stores on Taobao and Tmall where they are making millions selling products.
Make sure you set the right expectations in terms of your budget  and do your research carefully before selecting a KOL to work with your brand.
4. Look at the bigger picture.
I see many international brands coming into China and they have no idea what WeChat is, but they want it. The fact is that marketers need to take a step back and look at the bigger picture. What's your WeChat strategy? What do you want to achieve on WeChat?
WeChat is not going to be your magic solution. It is not going to solve your brand awareness problem, it is not going to make your brand instantly 'localized' – this is what your messaging and brand positioning is for. Once you have a WeChat account, you can't just start posting the same content as you are on Facebook and Instagram (more on this later) and expect to achieve results, even if you brand is well-known.
How you will measure success apart of number of followers? With follower acquisition growing increasingly competitive, look at other metrics such as number of views and shares. If you have 10,000 followers but no one is sharing your content, you do not have an effective WeChat account.
5. Give people a reason to follow you.
There are well over 10 million official accounts, QR codes are everywhere, but people are not just going to scan and follow your account willy-nilly. What is your account going to do for them? Just pushing out content for the sake of raising brand awareness is not enough. How can your account serve a purpose? Can you provide some sort of weekly or monthly roundup, or showcase special deals only available on certain days, is there a menu item that can serve a purpose such as a weekly event schedule or interactive H5 animation describing your business?
6. WeChat is not Facebook or Instagram.
For one, WeChat is much more closed off. Official Accounts do not enjoy the same visibility as brands on Facebook and Instagram have. If you want your content and your account to be seen by people who are not yet following you, your content must be shared by a follower on his/her Moments feed or sent in a message to personal contacts.
There are also more limitations for interacting with your followers, however some third-party CRM platforms  can provide help with this. These limitations make it even more important to create quality content.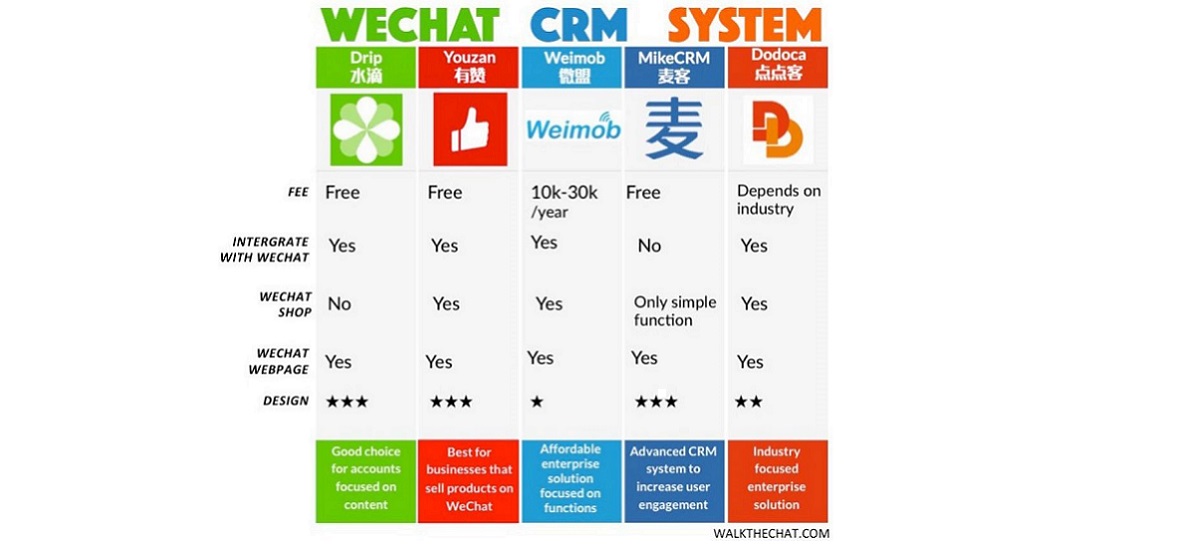 7. Plan your resources accordingly.
Who will manage your WeChat account? How you will connect it with your other social media channels and your website? Who can help you? Do you know what the workload looks like to put an effective, visually appealing article on WeChat?
Who will develop your content? Will you be doing your copywriting in house or will it be outsourced? Will you need translation? What about graphics and styling? All of these questions will help you determine how much you should be budgeting for your WeChat in terms of time and money. Don't even apply for your WeChat account before you can answer these questions.
Picture Credit: Olivia Plotnick , ChinaChannel, FitFam, WalktheChat
Comments are closed