About social media and recruiting with Jennifer Jones Newbill from Dell
Interview with Jennifer Jones Newbill
Senior Manager Global Candidate Attraction, Engagement and Experience at Dell
Jennifer Jones Newbill is a quintessence of a modern HR director who is not afraid to play by the marketing rules to achieve higher quality hires as well as, lower turnover and better engagement rates for Dell. She has over 20 years of Human Resource experience working as an Employment Branding/Social Media and Recruiting Specialist and Leadership Development Expert, and she has also managed various global and regional HR programs/projects for Fortune 50 companies. Today she shares valuable lessons about developing the right set of skills within the HR profession and social recruiting best practices based on her experience at Dell.
Jennifer, you're a Senior Manager: Global Candidate Attraction, Engagement and Experience. Your title already shows that your job is not a standard set associated with the tasks within an HR department. Can you tell me more about where your title comes from and why a Senior HR manager role would not be enough to describe your expertise?
I wanted to describe myself and what our team does in a way that was easy to understand and describe. It was tough and yes my title is a bit long, but typically people I speak to understand quickly. Our team is all tasked with candidate attraction (messaging including digital and, print as well as technologies used) engagement (social media and employee advocacy in partnership with our marketing team) and analyzing and improving the overall candidate experience.
I wonder how you've gotten involved in the role that links HR and Marketing?
In 2010, Marie Moynihan, Global VP Talent and Chief Diversity officer was appointed to her role and for the first time we had a global leader who had a centralized team (along with regional/local recruiting teams). At that time, we began looking at our standards, processes and policies across all regions and locations and that included evaluating our employment brand, digital properties, recruitment marketing strategies, etc. My role has evolved quite a bit since then including growing a global team that has strong proficiency in social media, content expertise and keeping a thread of candidate experience in mind with everything they do!
Do you think Marketing and HR have much in common? What changed in the last 10-15 years in your industry?
Marketing and HR have very similar goals – in a nutshell – candidate and customer attraction and retention. And it is clear that candidates and customers are frequently one in the same. Current or potential future customers can have their sentiment about your company influenced if they are referred to a job or interview with the company – very powerful stuff… There is huge opportunity for Marketing and HR to partner and collaborate in a way that is mutually beneficial.
Let's get into details with the referral hires program at Dell you were involved in. In one of the interviews, you said that referrals were one of the best sources of hire and that you managed to achieve 50-125% increase in global referral hires. Global Employee Referral rate was 38% globally, and over 50% in some locations (previously only 19% in 2010). If you were to compare these numbers with the past, do you still think, it's the best source of hire nowadays?
I can beat the drum about the importance of referrals all day every day! Regardless of the evolution of our digital lifestyles, we still believe in and trust what our friends and connections tell us – about products, services and yes, jobs. Where I think the industry struggles a bit is rewarding those that refer really great quality hires for the company. That is a next step for us at Dell – agreeing on a clear Quality of Hire metric and filtering by source – in particular referrals. Who is referring the best people/fit with the company? How do we drive this activity with our employees further?

Dell is on every social media channel including Pinterest. Which channel do you find most useful for recruiting?
Facebook and Twitter continue to have very inexpensive promotional solutions and we absolutely see hires through those platforms. Other social platforms are still important but play more of an influencing/branding role than direct hires. We don't see people, for example, going to a job directly from Pinterest. However, we just hired someone onto our global social media team who specifically mentioned our Pinterest page and our Careers channel specifically. The mention was all praise and how it created more positive sentiment of Dell in their mind. This is a win even if we didn't hire the person 'from' Pinterest.
Interesting. Looks like you also do a good job in terms of social listening across the board. With your Social Media Listening Command Center you are able to aggregate more than 6 million conversations about Dell every year (and that's just only conversations in English). How are you able to manage and make sense of the demographics, reach, sentiment, subject matter of the discussions? How do you measure the brand sentiment across the board?
At Dell, we use Radian6 to listen to conversations but we also partner with our external partner, TMP Worldwide, to produce listening reports specific to our company culture/employees/candidates. The challenge for a large, global B2C company like Dell is the majority of the conversations are about our products and services so we need to be mindful that although those are important to overall brand sentiment, we need to filter/slice the commentary a bit further. The Marketing team has a whole staff of experts that monitor and support the conversations happening 'real time' in a couple of locations around the world!
It's quite a lot of work. Can you give an example of important brand sentiment (could be negative) and tell me how you tackle this issue?
From a talent perspective, we want to know what people are sharing online (including sentiment sites like Glassdoor) around our culture, organization, change management, compensation and benefits and career opportunities. We are able by consistently reviewing and monitoring trends. Something to point out – sentiment and trends absolutely vary based on location. This can indicate local culture and company culture in that location – the leadership in that country or location, etc. For example, in Brazil, our sentiment is very positive. We can see consistently across multiple platforms including our internal employee survey, Tell Dell as well as Glassdoor. We can also see that engagement on social media across various platforms (LinkedIn, Twitter, Facebook) is higher. More engagement tends to tell a story – that people are more involved and motivated.
How is social recruiting different, if we would like to compare Facebook to LinkedIn? What recruiting techniques do you use on Facebook – that you would never use on LinkedIn and vice versa?
LinkedIn is a great tool for recruiters and have a lot of possibilities for recruiters to identify and engage with specific individuals on the platform. Facebook is great for engaging with groups of people – for example, video streaming is something we will be testing this summer and we are really excited about it.
Back to employer branding. I love the fact that you guys implemented the news feed on the Dell job page for users to see that someone has just applied for a job offer. There are also videos presenting people hired by Dell, who tell about their experiences while working for the company. What other employer branding techniques, are you using online to support your hiring process?
Our people are our greatest asset (and really the best asset of any company!) – this helps drive our referrals and trust in our brand so it creates a super healthy eco-system. We create not only videos but social testimonials showcasing people in different markets sharing what they value about Dell. This includes flexible work, work-life balance, etc. The key is to share stories and share content that is honest.
Can you share with us other social recruiting practices that bring you good results?
Blogging – if you consider that social recruiting which I do – what we find beneficial is the storytelling and providing a bit more detail/context through a longer form. Shorter and sweeter works really well most of the time but we can take an ongoing conversation and provide more details through blogging. We post on our blog platform Direct2Dell.
What topics work best for Dell in terms of blogging?
Our people stories – we feature our early in career hires about how Dell has helped them launch their career. Also stories about our connected and flexible work where team members share their personal stories and how flexibility has benefited their professional and personal lives.
Since not every company has a budget of Dell, what practices would you recommend to a SME to get started with an effective social recruiting? What to focus on first?
A lot of things we do don't require budget or minimal budget really. Blogging as I mentioned above is the time it takes the individual. The company doesn't even need a blog platform as individuals can post on LinkedIn publisher now. Social videos are what we call phone/mobile based created videos that are very short and cost nothing. Also our activity on social media with posting images and encouraging our team members to share with their networks (again, our greatest asset) costs nothing. There is effort and time associated with but cost is little to nothing.
Dell trains their employees to become "Dell Certified Social Media and Community Professionals." So far around 10,000 employees were trained to augment their jobs via social media. What are the biggest successes of SMaC U program and what things you would do differently, if you could turn back time?
We have actually trained to date over 16,000 employees! We also train our summer interns as part of their development and introduction to Dell. The biggest success is the ongoing focus on the program including monthly power hours by topic (how to deal with trolls, what is the deal with SnapChat, etc.) as well as the revisiting and updating of the content. The opportunity we have is to continue to have executives model this activity and behavior. Some of them do a fantastic job but I think there continues to be opportunity there. The good news is that a Social Executive program has been created and is proving to be quite successful.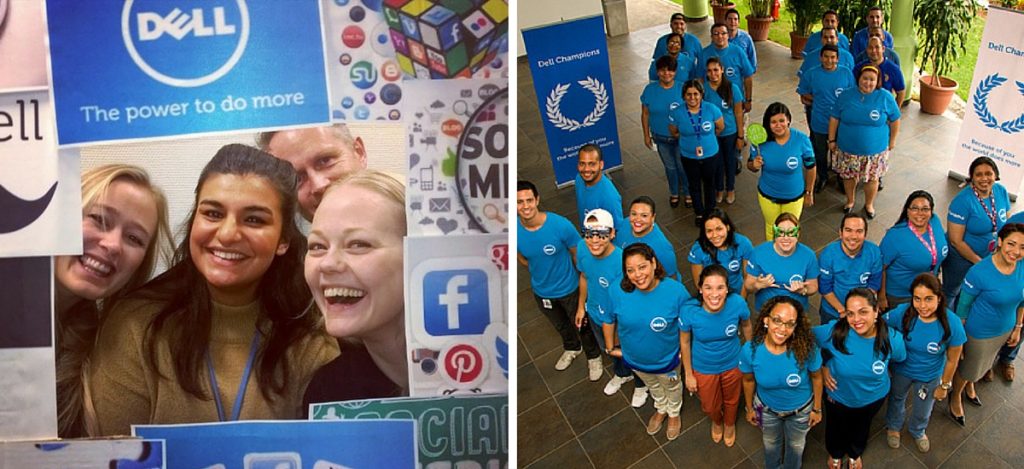 Is the Social Executive program the same as SMaC U program? Or this is a new program?
It is a part of our SMaC U program but is a track designed specifically for executives. We find they have unique needs and the social media team has done an excellent job customizing for individual executives.
Social media environment changes as we speak. How do you stay up to date on a daily basis? Could you recommend sources for HR managers in order to grow in their professions and become fully-fledged modern social recruiters?
I primarily stay up to date by following key influencers on Twitter and LinkedIn. I also have to remind myself that just because something is new and sexy or interesting doesn't mean it is for our team at Dell. The challenge is sifting through the noise. So, I also am a member of several Facebook groups comprised of experts in our field (Employment and Talent Branding) – these people act as sounding boards for each other and provide great lessons learned and advice to each other. I attend events as well but there is really only so much travel that I can do in all reality so monitoring trends online is very effective on a day over day basis. The social media leads on our global team are constantly scanning the marketplace. Our lead in India, Vandana Bellur, we refer to as "The Oracle"! She literally knows everything in our space and is constantly keeping our team (including me!) updated on the very latest.
There's a lot being recently written about machine learning software that achieves better results in recruiting than humans. According to what I've read on https://powermore.dell.com/ the software called Evolv's had a 35 percent lower 30-day attrition rate, reported 29 percent fewer hours of missed work in the first six months and handled calls 15 percent more quickly than those hired through the company's existing recruiting services provider. Do you think that recruiters might be eventually replaced by the machines?
This is a good question and really, only time will truly tell. If you had asked me about machining a decade ago I would say no way but it does seem with certain processes it is possible. I can't imagine that a human centric and relationship oriented process like recruiting could ever be people free – but again only time will tell. I continue to be amazed and surprised by technology!
What traits a good HR manager should have to be successful?
Listen to your team and value what inputs they have. Most importantly, trust them and TELL them that you trust them. This has worked wonders for me in my latest role – in particular leading a global team. Also, be responsive and be present. This is hard with all of the noise I was referring to earlier but people just want to feel that they are being heard and their ideas are adding value.
What other companies do a great job in social recruiting? What campaign were you impressed by recently?
Oracle does a great job – Celinda Appleby has a great team that is fully in house (content, design, copywriting, social). Indeed, Dropbox, HomeAway, GoDaddy, and Cisco are others that come to mind. There is a lot of competition for companies to differentiate their organization and their culture via social media in particular and all of these companies have invested in their employment brand and have great people on and leading their teams!
You've just participated in the Top Talent Summit in Toronto, ON on April 20-21. What would be your key notes from the conference and what changes (do you think) will the future bring for HR departments?
Better collaboration and partnership with teams outside of their own organization. I love what HR Open Source (#HROS) is bringing to the table for our function– best practices and case studies being openly shared across the HR and Recruiting teams – this is something that will benefit everyone but I don't think I would have seen this a decade ago. The support, partnership and familial community in this space are blessings!
Thank you for the interview!
We love hearing out from people who share useful insights on social recruiting, leadership and career development. Get in touch to share your story!
Do you like the interview with Jennifer Jones Newbill?
Like us on:
Join in our social learning groups:
Facebook Group – Social Recruiting Questions
LinkedIn Group: Recruitment Marketing by Coachify
Access our best information, including exclusive workshops, content and case studies.
Comments are closed