About social recruiting with Michelle Minnikin
There's no one better to talk to about social recruiting than a recruiter who has worked previously as a marketer.  Today I interview a Strategic Recruitment Manager at Scott Logic,  Michelle Minnikin, who shares a great deal of useful practices on recruiting through social media, company culture and branding. Michelle also shares her top 3 resources for HR managers. Keep reading.
About Michelle…
Her background is in occupational psychology and recruitment, having built 14 years of experience. She is a Recruitment Manager – Strategy, having joined Scott Logic after three years at Balfour Beatty and prior to that, AMEC. In her role she provides a bridge between recruitment and marketing activities for Scott Logic. She's been in post since February 2016 and her favourite things (at work) are employer branding, selection and assessment.
Michelle, social media are already full-fledged recruiting tools. What do you see as the most effective social media to recruit for Scott Logic? There is so much out there and sometimes it can be a waste of time if not used properly.
As a business, we create carefully targeted content, including three different blogs for different audiences that are shared through various channels. Our technical blog, which our consultants write, shares our thoughts and experiences of using technologies, techniques and tools, and is very popular. Our insights blog is for business leaders and decision makers, and our careers blog helps software developers, test engineers and user experience designers with their job search while showcasing what it's like to work at Scott Logic.
At Scott Logic, the quality of our service is defined by our people; they are our greatest asset, so we already know we want more people just like them (we'd love to clone them, but this technology has not been suitably developed yet!). So, we asked our people what social media sites they spend time on so we can focus our efforts on the channels that are relevant to them.
Based on this information, we are focusing our efforts on LinkedIn and Twitter as recruitment tools. As an organisation, we do have a LinkedIn Recruiter License so we are able to source directly using that. However, I think delivering engaging, useful content that positions our employees as thought leaders and showcases what it is like to work here helps make our recruitment brand more desirable.
I wonder how do you assess the efficiency of your content marketing? How you set yourself a goal to reach which specific content and what stats are you looking at to define the success?
Our strategy is a long term one focused primarily on raising awareness of the Scott Logic brand among our key audiences. So, tracking all applications to ask how each candidate heard about us is vital. We also survey all candidates to assess the experience they've had of our recruitment process to obtain anecdotal and qualitative feedback that helps us improve on an ongoing basis.
Can you share how you engage candidates in your employer brand on social media?
Our social media strategy is to create compelling content and ensure it is seen by the type of people we're looking to join us, as well as constantly monitoring results to refine and improve. We have a current project looking at our employee brand proposition in more depth. We will use the information we get from our people to review how we set out our stall and position ourselves as differentiators to attract more talented individuals like them. We want to ensure that we give people who are thinking of moving jobs a realistic preview of what they can expect from working at Scott Logic, along with an understanding of what makes a good consultant. We also monitor Glassdoor very closely and encourage our people, as well as those interviewed for roles, whether successful or not, to provide us with honest feedback so we can continually improve.
You mentioned that your social media strategy is to create compelling content and ensure it is seen by the type of people you're looking to join you. So, what are the main factors that motivate candidates to join your team?
Not only do we find candidates attracted through word of mouth, but because we have a number of thought leaders in the business, that regularly speak at events and write blog posts and white papers, we are gaining a solid reputation as a business in which you can grow through learning from other smart and passionate people.
According to recent studies, automotive industries have mastered social media use (Source: https://blog.thesocialms.com/automotive-social-media-four-car-brands-winning-at-social-media/) Do you think that certain industries are naturally more engaging than others on social media, or is this just a matter of budget?
I feel it's always easier to sell an organisation as an employer of choice when you have a defined product and brand – who wouldn't want to work at Harrods, Apple or The Walt Disney Company? If you look at LinkedIn's most InDemand companies, the vast majority are product- based. People tend to understand what this type of company does as it is consumer-facing, and I'm sure budgets are massive.
However, for the last few years, tech companies have also been coming at the top of these lists, so as an industry, we are creating an interest for people to get into technology. As a relatively small company, and a business to business, service-led firm at that, we need to stay on top of our game with our recruitment strategy and social media use. We have significantly smaller budgets than some of the more well-known brands out there, so we have to use our resources more creatively. We have a number of exciting plans in the pipeline…watch this space!
 You said two very important things, one about branding and the second about trying to stay on top of your industry. Please tell me, since you don't have a product to sell (like Apple or Mercedes) and you sell services – how are you trying to build a brand around something that's so…well, let's say – indefinite? You're a consulting company, so could you possibly consult on everything related to technology?! And secondly, the tech industry is extremely competitive and fast-paced. How do you retain your employees, who are the most attractive candidates on the job market?
You're correct in that we are a service-led, business to business company, and relatively niche. However, the brand is built on the exceptional quality of the service we provide, due to the talent, passion and expertise of our people. The service we offer is bespoke, so we work with each client on an individual basis to truly assess their needs and build a solution that exceeds them, as well as lasting into the future. We drive business process improvements and organisational change for our clients through technology. We pride ourselves on creating a culture of learning and encourage all staff to embed themselves in all aspects of technology to develop themselves personally. This allows them, and us, to keep abreast of changes in the tech landscape.
Looks like marketing and HR have more in common in recent years. What's changed in the last decade in the HR industry?
What has changed in the last decade in terms of recruitment – everything! Where recruiters used to place traditional print job advertisements in their local newspaper or trade magazine, the digital revolution has expanded our options. And there is still a place for such localised, targeted tactics. However, due to numerous disrupters such as LinkedIn and Glassdoor, increased competition for talented individuals and the evolution of the career from the job for life to the gig economy, the power has shifted away from employers and there is more choice now for high calibre job seekers to choose where they spend the vast majority of their lives – at work.
Employers need to craft a compelling message and give potential employees a real understanding about what it is like to work for their organisation; this is where the crossover with marketing has occurred. Though, we do not carry out recruitment campaigns around specific roles. We've always got our eye on the market so we are in a position to recruit exceptional candidates as and when we see them.
Do you mean that you create a job for exceptional candidates on the spot? First, find the person and then…find an occupation for the hire?
Our business is very fluid in the way it works and our organic growth is steady. We operate in a very Agile way, and generally hire technology agnostic, polyglot developers (developers who can write in more than one coding language). Our client project teams shrink and grow at different stages of release, and we have a number of projects taking place at any one time, all at different phases, including internal projects that help some of our junior developers improve their skills. This way of working means that if we see a good developer, test engineer or user experience designer then we are in a strong position to be able to hire them.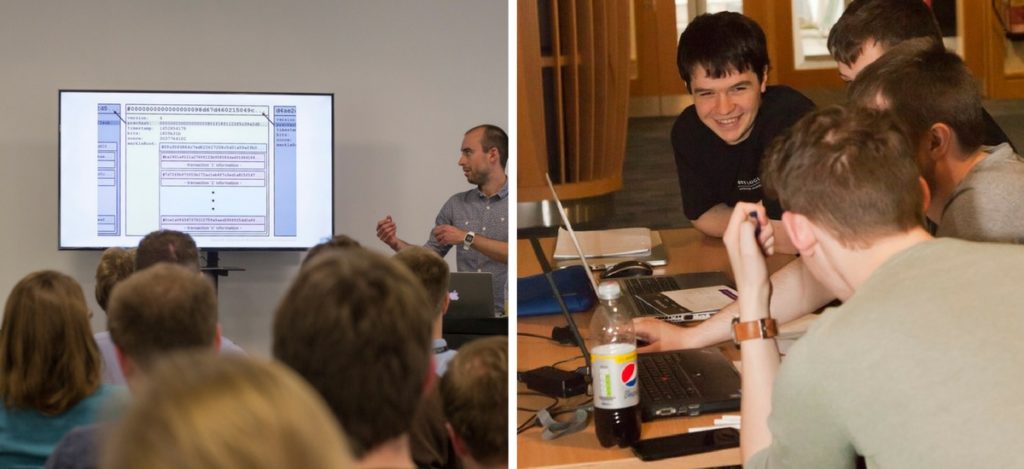 What HR can learn from marketing and vice versa?
There are many skills that lend themselves to both disciplines, such as branding, storytelling, segmentation, search engine optimisation (SEO), generating advocacy and networking, and I personally have felt this evolution, particularly over the last three or four years as digital channels have embedded themselves in our culture.
HR can learn from marketing on how to see themselves in more commercial terms, as huge contributors to the bottom line, while marketers can learn to be a little more human from HR, in terms of the power of the candidate experience, not only at the beginning of an individual's appointment, but throughout the employee life cycle.
I had the impression that it's the other way around, that HR managers often only contact candidates when they need them, and if the candidate is not interested, they often stop nurturing the relationship with them. Is it different at Scott Logic?
The relationship with HR and recruitment should not end when a candidate begins a role, and while I think this can be the case in some large organisations, we are a relatively small firm and are continually working to ensure we maintain strong relationships with all of our people, from the moment they first hear of the company, until in many cases long after they leave. Because of this we've had some staff members leave and come back to us after gaining experience elsewhere. Your people are your biggest asset, and their stories can be incredibly valuable in attracting new candidates; this doesn't just apply to successful applicants. We've also had applicants come to us after being referred by those who weren't offered a role themselves. The important thing is to leave people with a positive experience at every touch point, regardless of the relationship.
We know that normally marketers keep sending newsletters, nurture the customers on social media by fueling them with news, info for their entertainment, to create a community around the brand. If you could explain more how marketers can become more human in the sense you're talking about?
As a recruitment specialist, my role does involve some overlap into marketing, but I'm not a marketing expert, so I may not be best placed to comment. That said, what I was alluding to was the fact that traditionally, marketing is a very commercial discipline that works to place messaging so it is seen by individuals with a view to them spending money with the brand. Historically, this has tended to be a one-way relationship, while HR works to have ongoing two-way conversations with candidates throughout the recruitment process and beyond.
Since we talk about marketing…we know marketers love metrics. What is (or should be) the most important metric for a great recruiter to track candidates?
Quality of hire is the most crucial aspect of measurement for us. It's all about whether the individual is the best fit for the role as well as the business, and vice versa.
What's the best social recruiting case study you're seen recently in media?
Through a podcast, I became aware of the work that Craig Fisher has done at CA Technologies, using a rather lovely piece of technology to create employee brand advocates that helped the company spread the word and attract great talent. I am very encouraged by the results and hope to implement something similar here shortly.
And what's the newest EB trend you would like to explore?
Good question…candidate experience is our team's key focus and to help us create the best possible experience, I'd love to explore some new technologies that are now available. We have an incredibly good recruitment system, developed in-house and it serves us well. However, modern recruitment systems are doing some great things now, combining the traditional applicant tracking systems with a customer relationship management system and social referral systems, which will give us greater insight into the experience we're providing, and enable us to communicate more smoothly with candidates throughout their application journey and beyond. This is another way in which our recruiting efforts are aligning with those of marketing. I also love data and recruitment analytics, so when selecting a system, I find being able get deep into the numbers attracts me, as it helps us to develop more effective ways to measure quality of hire.
Can you recommend to our readers the best three books you've read on employer branding, HR or marketing?
I am a prolific reader and reading fiction is one of the main ways I relax. In terms of EB, HR or marketing though, I tend to get my information from key influencers, and as such, spend time keeping up to date with podcasts and blogs. Three of my favourites are:
Matt Aldler's Recruiting Futures podcast. Matt has a series of guests speaking to him on the future of recruiting. Great for listening to on the way to work.  
Meghan M. Biro from TalentCulture. Meghan speaks about the future of work and has a live podcast on the subject every Wednesday.
Ted Bauer's The Context of Things blog. Ted is a highly entertaining writer, he makes me laugh and usually tackles topics around leadership, marketing and the future of work in a very matter of fact and common sense way.
If I had to choose a book it would be Lazlo Block's Work Rules. While not similar culturally, as an organisation, we are similar to Google in what we look for in future employees; it's useful for me to see how Google tackles talent acquisition, as we face similar challenges.
Thank you for the interview!
About Scott Logic
Scott Logic is a growing technology consultancy which provides the very best in bespoke software solutions across a variety of market sectors. It was founded in 2005 by Gary Scott after a successful IT career in investment banking and have grown to employ around 200 of the best people in the industry, including many thought leaders.
Comments are closed